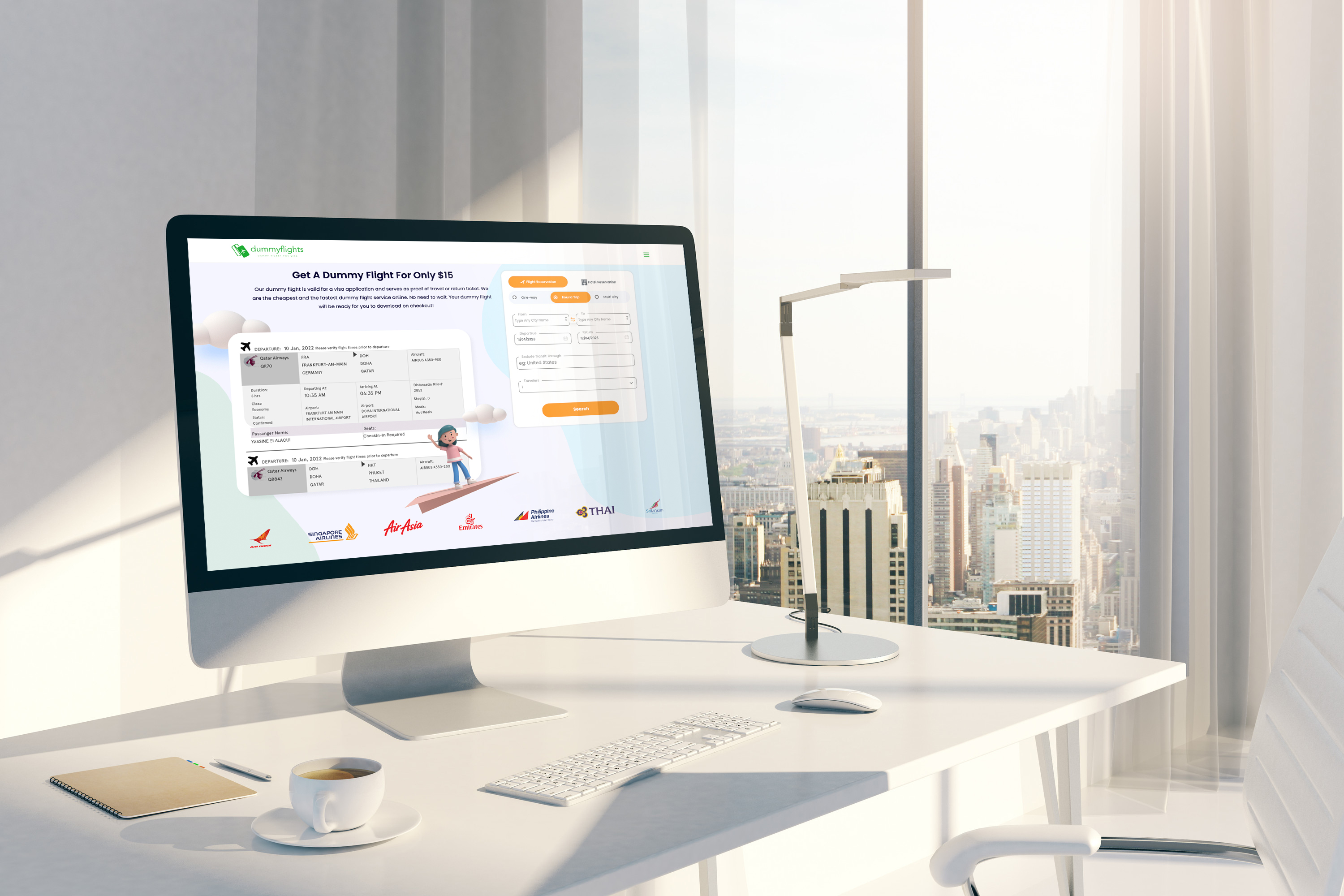 What is Dummy Ticket and How Do They Work?
Flight Booking|
10 Apr, 23
How To Book A Dummy Ticket?

Are you planning your next trip and can't wait to jet off on new adventures?
Whether you're planning to hike the biggest mountain you've ever hiked, explore amazing monuments, or simply relax at the beach, holiday time is fast approaching!
Well, that's if you can secure a visa for your destination first.

Let's be honest, as incredible as being on holiday is, applying for a visa can turn out to be overwhelming and even quite daunting.
When you apply, not only will you have to provide confirmed return flight tickets but also proof of hotel reservations and even travel insurance in some cases.
The issue with that is that if your visa application is denied, you'll lose all of the money you've spent on tickets, accommodation, and insurance. Sure, some service providers might be more flexible than others, but you'll still lose money.
But what if we told you that you could actually provide verifiable travel documents for visa purposes without having to pay for your bookings?
Sound too good to be true?
This article will detail what a dummy ticket is and the benefits of booking one before highlighting the best place to do so.
What Is a Dummy Ticket?
A dummy ticket (also called flight reservation or flight itinerary) is a return flight reservation for visa application purposes. It's called a dummy ticket because, unlike with flight tickets, it isn't paid for. Once you've secured a dummy ticket for your flights, the reservation is usually held in your name for a few weeks, so you can apply and wait for your visa grant confirmation before paying for your air ticket.
Dummy flight tickets provide embassies or consulates with all the information they need to be able to process your visa application.
Your dummy ticket (or flight reservation) will include:
● Arrival date
● Departure date
● Your full name
● The name of the airline
● The flight route
● Booking reference
Why Do You Need To Provide Flight Reservations or Dummy Tickets?
Now, you might be wondering why you'd need to provide flight and hotel reservations before even knowing whether your visa will be accepted.
Here are the three main reasons flight reservations can be asked for visa application purposes:
It Helps Prove That You Won't Overstay
One of the main reasons embassies and consulates ask for a flight reservation in the first place is because they want to ensure you won't overstay.
As you probably know, visas tend to come with an expiration date. Whether you're a tourist or going to study somewhere, you'll most likely be given a specific period during which you can stay in the country. After this period, you'll either have to leave or renew your visa if possible. And even then, depending on the country, you might still have to leave and apply from abroad.
A dummy ticket will show the embassy or consulate your arrival and departure date, reassuring officials that you're planning to leave after your trip. This will increase the chances of the authorities approving your visa application.
It Helps The Embassy Determine Your Visa Expiry Date
As discussed previously, a visa comes with an expiration date. Based on your dummy flight ticket, the embassy or consulate in the country of destination will be able to set a date from which you can enter and define the date by which you need to leave.
As a tip, make sure to use the same entry and departure date on each document you provide. Unfortunately, your visa could be denied if the dates don't match.

It Helps Ensure You Are Applying At The Right Visa Office
A dummy ticket will help the embassy or consulate you're applying to ensure you're applying at the correct visa office.
Let's take an example. Say you want to visit Spain for two weeks, then France for a week, and Germany for a couple of days. These countries are all part of the Schengen area.
Now, the rule to apply for a visa in the Schengen area stipulates that you need to apply in the country where you plan to spend the longest period. In that case, you'd need to apply in Spain. If you didn't know and applied with the French embassy or consulate in your city, your flight reservation would allow the team to immediately contact you to let you know that you need to apply with the Spanish embassy or consulate.

Benefits Of Booking A Dummy Ticket
Dummy tickets aren't just useful for visa applications. They can be used in other situations, including:
- Providing Proof of Return or Onward Travel
Are you planning to travel for an extended time, but you're not sure where? After all, many travelers just want to explore the world without making any plans and decide on their next destination as they go.
The problem with this is that if you decide to book a one-way international flight ticket and don't know your next destination yet, you could be denied boarding.
Why?
Because you might be asked by immigration or one of the airlines you're planning to fly for proof that you're leaving the country. This will reassure the authorities that you won't be overstaying and aren't trying to illegally immigrate to the country. And that's where dummy tickets come into play!
No more having to book a flight for your next destination on a specific date, even though you're not sure whether you'll end up visiting the place. A dummy flight ticket allows you to show proof of onward travel and alter your destination or date at a later time for a minimal fee if you change your mind.

- Expedite Your Passport Renewal
If you just realized your passport is about to expire or has expired and you want to book a trip soon, a dummy ticket can help you expedite your passport renewal process.
Here's how.
Depending on your country of origin, a passport renewal can take a few weeks. However, some countries like the US have an expedite option that allows travelers to speed up the renewal process.
Now, one of the things you'll be asked to provide to justify your passport being processed quicker is a flight ticket showing you have already planned your trip. The issue is that even if you provide a flight ticket as proof you're planning to travel soon, your passport might still arrive too late.
That's why dummy flight reservations are the best way to proceed when trying to expedite your passport renewal. This way, if your passport doesn't turn up on time, you won't have lost your expensive flight tickets.
- Ask For Leave
Say you need some time off to travel back home and sort out important family issues. It's the weekend, and it's urgent, but you aren't sure whether your manager will approve your leave.
You could book a dummy flight ticket and request your leave when you get back to work on Monday. This way, you'll only pay a small fee for your flights to be held, and you'll be able to show your manager or HR that you've already booked your trip. This will make it more likely for them to grant you leave and ensure your dates are locked in.
- Apply For An Exit Visa in one of the GCC countries
The Gulf Cooperation Council is made up of 6 countries, including Bahrain, Oman, Kuwait, Qatar, Saudi Arabia, and the United Arab Emirates.
Now, these countries require an exit visa to monitor foreign workers. Indeed, to avoid work visa holders overstaying, they make it mandatory for foreign workers to apply for an exit visa once their work contract has ended.
Purchasing a dummy ticket is the best way to operate when applying for an exit visa. This way, you can provide your flight details when filling in your application but avoid losing a lot of money if the visa isn't approved on time or is denied.
- Rent a Car
Some airport car rental companies will require you to present a return flight ticket to be able to rent a car. Most of the time, that's because they want to avoid locals driving their fleet as they tend to put more mileage on than tourists. Others simply need your flight number to ensure the car is ready when you arrive.
So, if the car rental company you've selected asks for your flight details, a dummy ticket will allow you to reserve the car you want and lock in the price without having to pay for your flights just yet.
Where To Book A Dummy Flight Ticket?
At DummyFlights, we're passionate about helping travelers like you plan their vacation and embark on a memorable trip. That's why we offer affordable flight and hotel reservations for visa application purposes, taking the hassle out of preparing your application.
Leveraging our years of experience in the travel industry and our in-depth expertise in visa applications, we issue the appropriate documentation for embassies and consulates around the world. Our convenient service was designed to simplify the visa application process and allow you to focus on the fun part of planning your trip.
What makes DummyFlights different from other competitors?
Sure, there are a few different online platforms offering dummy tickets. However, at DummyFlights, we make a point to provide the best service to travelers.
If you're after a smooth experience, here are some of the ways DummyFlights can help:
● We provide flight and hotel reservations:
One of the most time-consuming and overwhelming things when planning a trip abroad is to book flights and accommodation. To make it easier and save you time, we've designed a tool that combines both flight and accommodation reservations. In other words, DummyFlights is your one-stop reservation platform to book both dummy air tickets and dummy hotel reservations.
● Our documents meet the visa application requirements of many countries:
Our dummy tickets give you access to a variety of destinations such as the US, the UK, Japan, China, Canada, all of the countries located in the Schengen area, and much more,
● It's fast and affordable:
The great thing about our services is that you can receive your dummy tickets within minutes. Jump on the platform, fill in the fields required, and ta-da, you'll be able to download your reservations instantly. You could literally do this while waiting at the embassy!
And the best thing about it all? It's really affordable. Instead of booking expensive flights and making costly accommodation arrangements before even knowing if your visa will be approved, your dummy flight ticket will only cost you $15! Even for a multi-city flight reservation.
And we're not done yet.
There are no cancellation fees should you have to cancel your trip because your visa was denied or for any other reason.
● The process is easy:
All you need to do is fill in your travel and personal details in our travel booking tool, select a flight or hotel, pay the booking fee and instantly download your flight or hotel reservation.
● We offer unlimited date revisions:
We know that flexibility is key when it comes to planning a trip. When you book through us, you can rest assured that you'll be able to design the perfect trip for you. That's because we allow customers to adjust their booking dates as many times as they need.

● Customer satisfaction is our priority:
Our customers are our priority, and we're so passionate about helping travelers. We're all about delivering a fantastic experience and pride ourselves on having helped countless travelers save time and money, so we know we can help you too!
We hope this article has provided you with some insightful information about dummy tickets and how to book them. If you need any help booking your dummy tickets or if you'd like to discuss with our friendly team, don't hesitate to get in touch. We'd love to help!