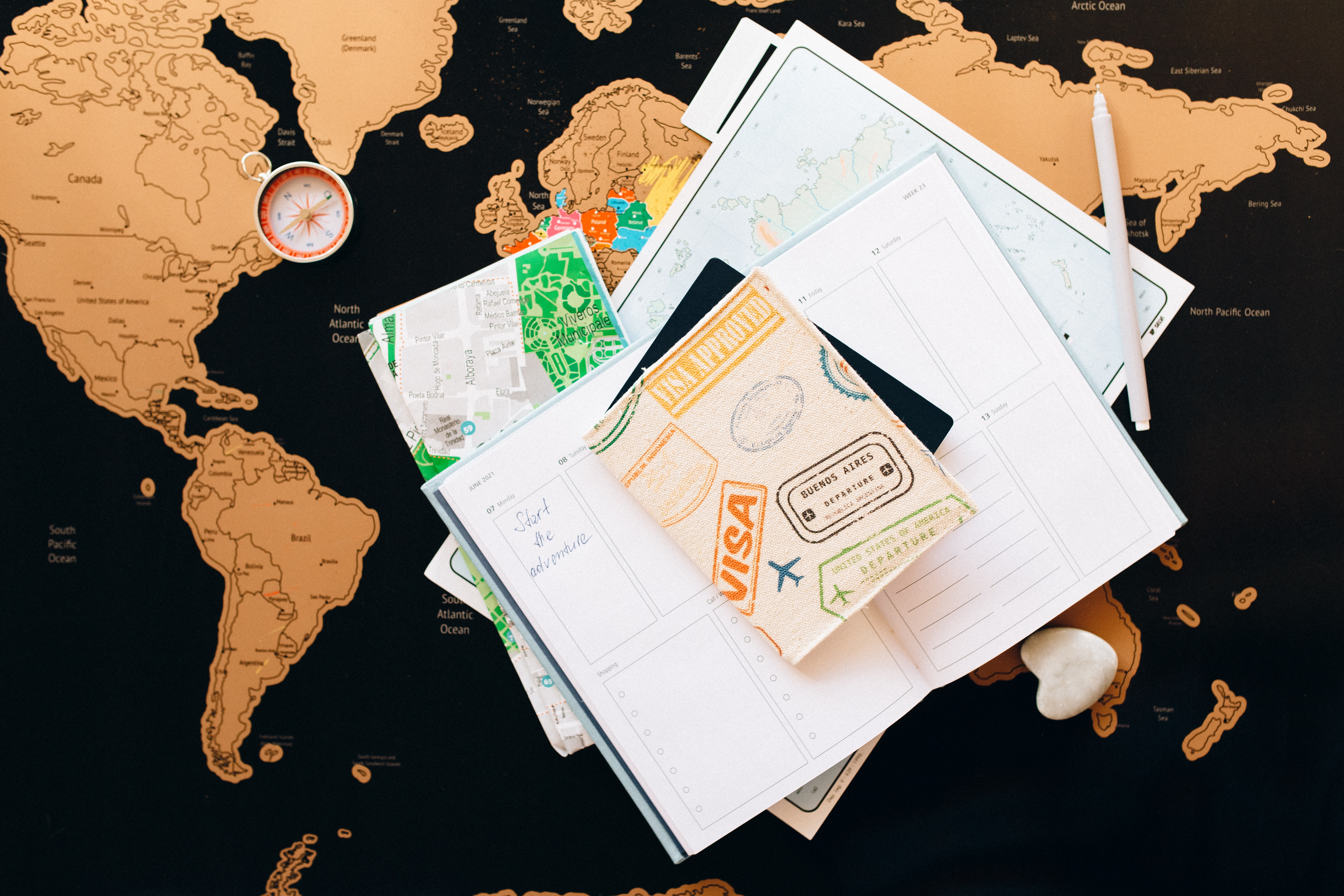 What is Flight Itinerary and Hotel Booking for Visa Application?
Flight & Hotel Booking|
08 Feb, 23
Traveling to a foreign country is a dream for many. Especially if it is a first-time overseas trip, the excitement knows no bounds! But when it comes to the actual visa application process, all the enthusiasm goes down the drain. The lengthy, confusing and tiresome documentation can put off the idea of going abroad in the first place. Amongst the countless documentation, flight itinerary and hotel booking for visa application can be most daunting.
While seasoned international fliers may be aware, but for first timers all the paperwork can become an overwhelming task. Many people misunderstand the document requirements and end up buying the actual flight tickets and hotel reservations thinking that it will guarantee them a thumbs up from the embassy for their visa.
No embassy wants you to buy the actual tickets and make actual hotel reservations and risk all your hard-earned money. The embassy actually wants you to submit a valid yet affordable alternative. This article aims to make you aware about your pocket-friendly and safe alternatives which can make your visa application process a lot easier.
So, let's get into it!
What is a Flight Itinerary for Visa Application?
When the embassy asks a list of documents from you, what they actually are looking for is all the information they can get about your trip. A flight itinerary can be an essential document in providing such an information. A flight itinerary is a document which has all the information of an actual flight ticket but is actually a dummy ticket. A flight itinerary will show the schedule of your flight to your destination country and back and a confirmed reservation of your seat in the flight for a set number of days, just like an actual airline ticket.
Depending on the embassy, a flight itinerary for visa application can also be known as:
• Confirmed flight tickets/itinerary
• Air ticket booking
• Dummy air/flight ticket
• Booked flight itinerary
• Round trip flight tickets
• Proof of onward travel
• Flight reservation/confirmation
In short, a flight itinerary is nothing but a proposed route of your travel which can be verified online. It is always advisable that the flight itinerary should be a round trip/two-ways schedule so that the embassy can verify the temporary nature of your trip to the destination country and that you will return back once the trip is complete.
Apart from your route details, the following details must be mentioned in a flight itinerary:
• Full name of the person who is travelling
• Airline name
• A valid booking ID/flight reservation number
• Arrival date and/or Departure Date
• The duration of each flight and departure and arrival timings
• Airport IATA codes and details of the terminals
• The price of airline ticket when fully purchased
• Details of any connecting flights
What is a Hotel Booking for Visa Application?
Along with the flight itinerary, the embassy also asks for "the proof of accommodation" as part of the document submission. This can be confusing but actually is an easy feat to book. A hotel booking or reservation is nothing but a hotel room kept aside for you until you arrive. This can be done by paying a nominal fee to the hotel which confirms that the room is allotted to you for a specified time period. In case you cannot find a hotel that reserves for a small amount, then the next best option is to book the cheapest hotel room available in the city you are traveling to. This ensures that you avoid any risks of losing your money in case your visa application gets rejected.
Much similar to the flight itinerary, the purpose of such a document is to gauge the length of the visit and the authenticity of the address of the hotel/accommodation as listed by you. Hotel booking for visa application can also be known as Dummy Hotel Booking, Dummy Hotel reservation/confirmation across the internet. Any of the aforementioned names can be used interchangeably but, this document must contain the following details:
• Name and Surname of the person travelling
• The full address of the hotel
• Contact details of the hotel such as phone number, fax, email ID, etc
• The dates for which the hotel room has been reserved
In several cases, the embassy might ask for Travel Itinerary which consists of all details including flight details, hotel details, the duration of stay and what all places you will be visiting including the date of the visit to each place.
Why do Embassies Ask for Flight Itinerary and Hotel Booking for Visa Application?
While it is a no brainer that embassies do not encourage buying an actual air ticket or hotel bookings, some embassies may demand an original flight ticket as a last resort. But the question still remains that if these reservations can be cancelled so easily, then why do embassies ask for such documents. The reasons are as follows:
To Control Your Stay
The main reason the embassy asks for both of these documents is to confirm that you will be returning back to your home country after your visa validity ends. The consulate can confirm whether your flight arrival and departure dates fall under your visa validity. The hotel reservation further reconfirms your length of stay.
In addition, the hotel reservation guarantees that you have an arranged accommodation in the destination country. This assures the consular officers that you do not have any plans to overstay your visa. Such documents also help re-ensure the embassy the actual purpose of your visit to the destination country.
To Determine the Length of Your Visa
These documents help the embassy to determine the actual length of visa that will fulfil the purpose of your visit. Thus, this will assist them to avoid shortening your stay than you need or exceeding the number of days you actually need.
To Ensure You are Applying to the Right Embassy or Consulate
This applies to those who are applying for Schengen Visa. Schengen visa is for those who are traveling to Europe, as they may travel to more than one country in the European region. A normal Schengen visa rule is that if a visitor is planning to travel to two or more Schengen countries, then they must apply to the country where they will be staying longer. Therefore, your hotel booking and flight itinerary will help the consulate to ensure that you are applying through the right consulate.
How can I get a Flight Itinerary or Hotel Booking for my Visa Application?
While you can always get a refundable flight ticket directly from the airline website. But, usually the airlines charge 5-10 times higher than the normal fares in such a case and the reservation might only be guaranteed for only a few days. Similar story goes for the hotel booking, where one can directly book a hotel room from the hotel website itself. Yet, various airlines and hotel chains do not provide a cheap booking option. Even if there is an option of cancellation, the prices will be skyrocketing and can leave you feel overwhelmed.
For first timers, visa documentation process can feel a bit too much and in such vulnerable times, they end up falling prey to fraudulent companies. Travellers are advised to beware of such fake service providers who take up all the money without providing the services they claim to provide.
It is important to consider a convenient and pocket-friendly way to make your flight and hotel reservations through a trustworthy source. DummyFlights is one of the most sought-after online booking websites that provides an easy and quick answer to all your hotel and flight reservation queries.
Start your journey with DummyFlights through these simple steps:
1. Go to DummyFlights.com
2. Fill in your personal and booking details
3. Select the flight or hotel of your choice
4. Confirm your booking details and pay a nominal fee to get your visa itinerary
5. Your booking will be ready to download and print immediately
DummyFlights provides a genuine and quick resolution for your flight and hotel reservation hassles. What's best is that you'll get the same booking price for one-way, round trip or multi city flight itinerary for visa application. Plus, you can cancel at any time without paying any cancellation fee. What's more? You can revise your dates numerous times should your travel plans change. At a nominal fee of $15 per person, DummyFlights aims to aid you in experiencing a simpler, faster and affordable process for your visa document requirements.
While the process of gathering the right documents can be a task in itself when it comes to your visa application process. Many people end up making mistakes along the way, in order to source all the documents in a limited time period, it is important to note that such hassle can lead to mistakes that can get your visa application rejected. It is better to take care of one document at a time and ensure the authenticity of the service providers before shelling out your hard-earned money. Don't let wrong decisions create a barrier in your overseas dreams. Whether it is your flight itinerary or hotel booking for visa application, trust DummyFlights as your efficient documentation companion.